- L o o k # 1 -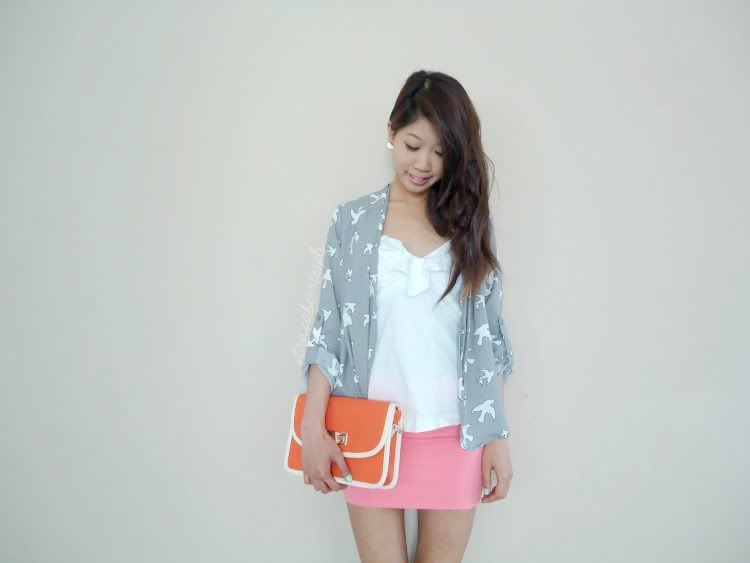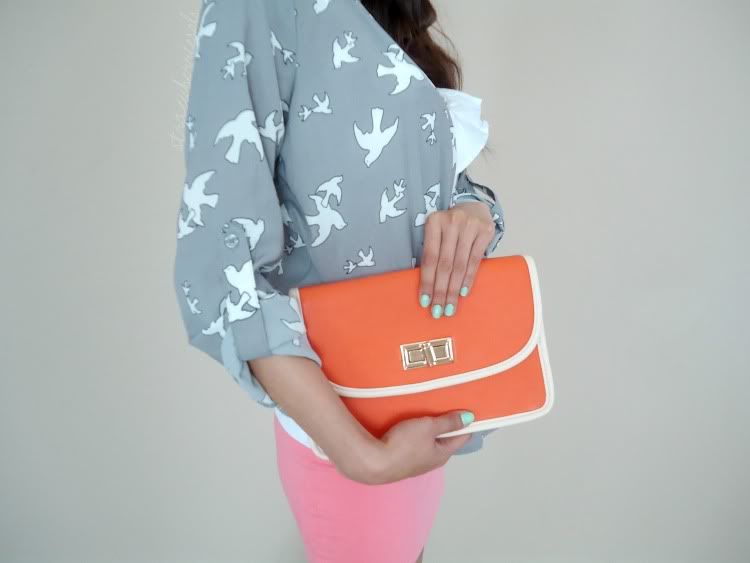 Look #1: Bird Printed Cardigan, Heart Stud Earrings, Orange Purse & Beige Wedges are from Forever 21, Coral Colored Bodycon Skirt is from Rue12. The White Ruffled Top is made by me.

For my first look, I styled my coral colored bodycon skirt with my ruffled white top I made myself and my bird printed cardigan from Forever 21. I am absolutely in love with the little birds printed on my cardigan. The birds printed on my cardigan reminds me of Miu Miu's sparrow print, and I am in love with Miu Miu's Sparrow Printed Pumps and clothing, but since I can't afford any of Miu Miu's beautiful, chic clothing and accessories, my bird printed cardigan will have to suffice.

- L o o k # 2 -
CLICK HERE to see outfit pictures of Look #2

Look #2: Beige Wedges, Heart Stud Earrings & Colorful Charm Necklace are from Forever 21. Blue Blazer was made by my mom. White Top & Coral Colored Bodycon skirt are from Rue12.

For the second look, I'm wearing my color blocking outfit that I featured in my last video (Spring 2012 Fashion Trends ✿ Outfit Ideas). As I mentioned before in the description box of my last video, this outfit didn't turn out as good as I hoped it would, but after seeing many sweet comments about this look, it made me really happy that you guys like this outfit. I paired my coral colored bodycon skirt with a flowy white top and a blue blazer, and I accessorized this look with my colorful charm necklace from Forever 21. I think this look would look absolutely perfect with a turquoise blazer instead of a blue blazer but sadly I don't own one D: For shoes, I'm wearing my beige wedges from Forever 21.

- L o o k # 3 -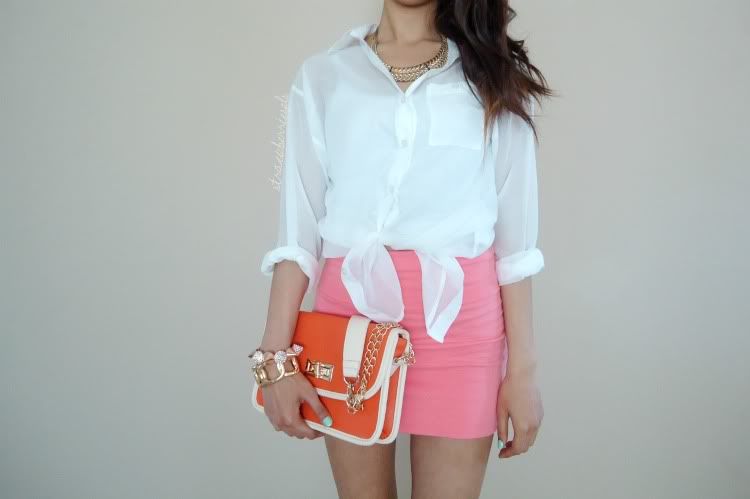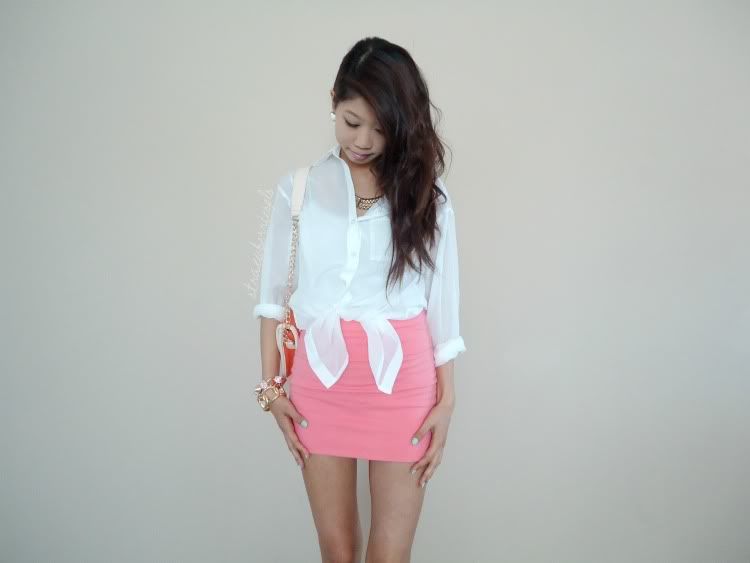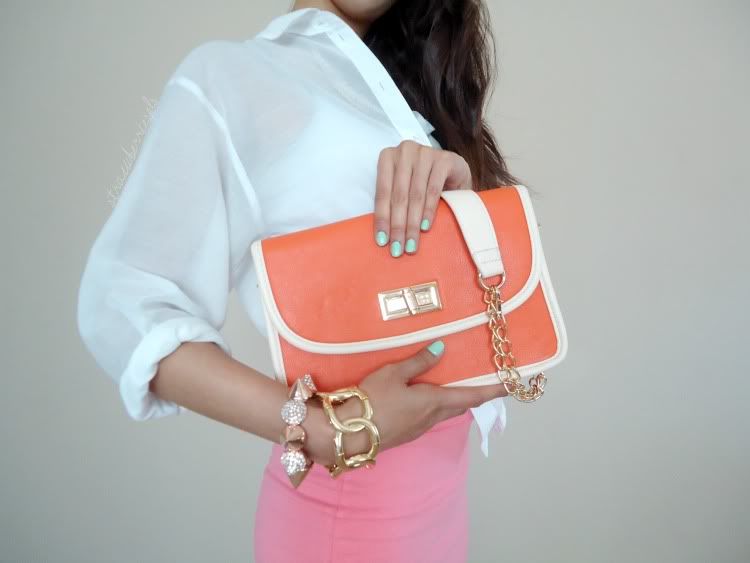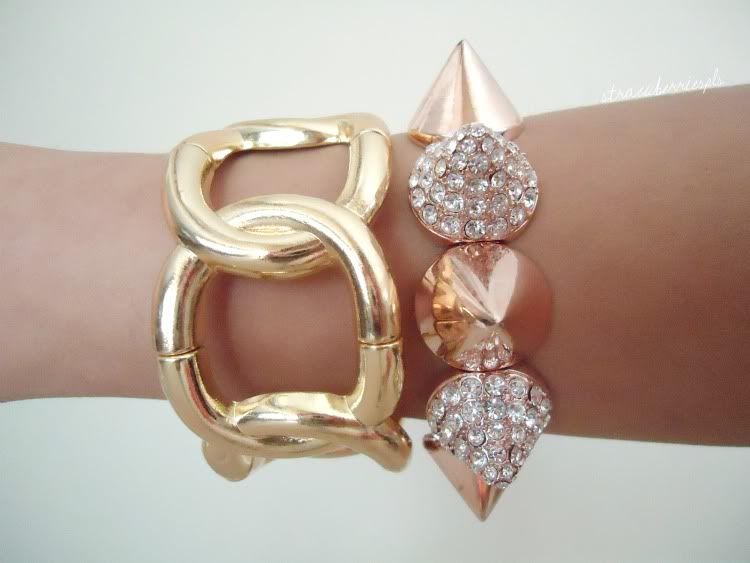 Look #3: White Sheer Button Down is from H&M. Coral Colored Bodycon Skirt is from Rue12. Gold Necklace, Heart Stud Earrings, Orange Purse & Beige Wedges are from F21. Gold Chain Bracelet is from Target, and Studded Rhinestone Bracelet c/o Nsideadivascloset.

For the third look, I paired my coral colored bodycon skirt with my sheer white button down. I left the bottom buttons unbuttoned and tied the ends of my top together to give the outfit a more beachy, summery feel. I accessorized my outfit with my favorite gold necklace from Forever 21, and my orange purse which is also from Forever 21. To balance out the gold necklace, I wore my new bracelets from Target (Gold chain bracelet) and Nsideadivascloset (studded rhinestone bracelet). For shoes, I'm wearing my beige wedges from Forever 21.

- L o o k # 4 -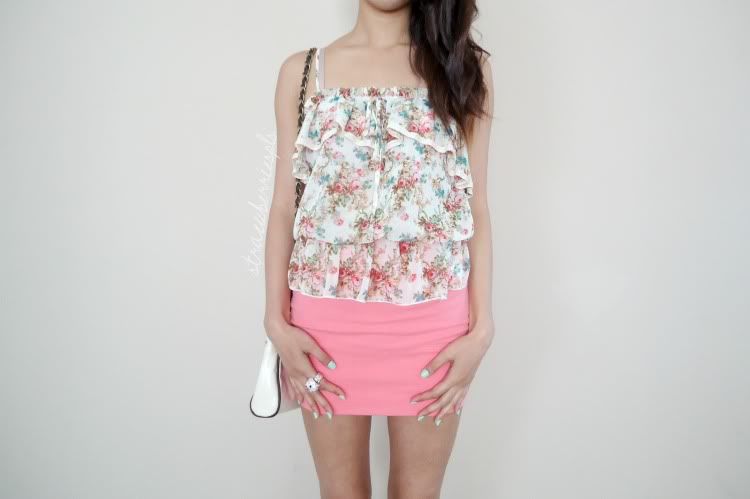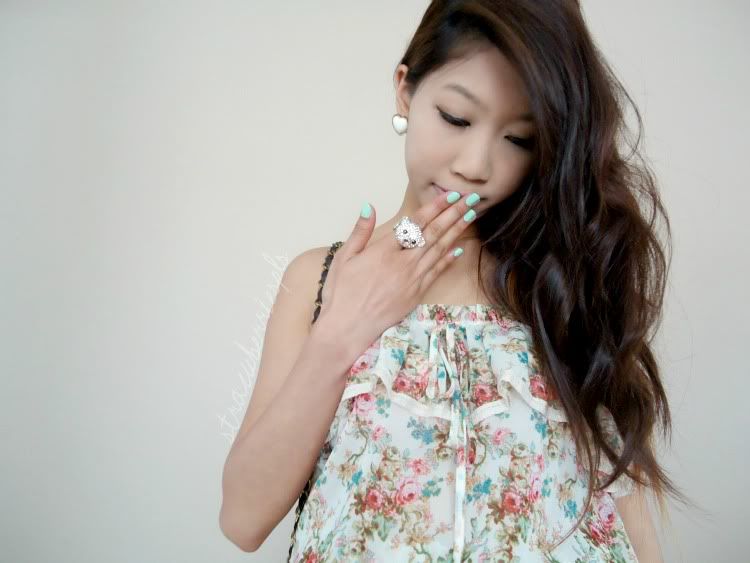 Look #4: Floral Top, Beige Wedges, & Bow Purse are from F21. Coral Colored Bodycon Skirt is from Rue12. Bear Rhinestone Ring c/o Nsideadivascloset.

I was originally going to use this as my third outfit for my video, but decided to go with another outfit instead. So since I thought this was going to be my third look for my video, I took pictures of this outfit and wanted to share this look c:

Song by Cube Face - Tell Me



For this video, I styled three outfits(as you see above) featuring my coral colored bodycon skirt. Coral is a very trendy color at the moment and one of my favorite colors to wear during the spring. I love bodycon skirts because they are really inexpensive and they are perfect to wear during the spring and summer. You can get bodycon skirts in different patterns and colors; it's a really affordable way to incorporate patterns and colors into your outfits without spending a ton of money.


My BLOG | Shop My Closet | My Fashion Youtube Channel | Twitter


The photos are modeled and taken by me. The videos are filmed and edited by me as well.
I bought all of the clothes and accessories and put together the outfits.